After that short and awkward phone conversation, kyzen8 and I eased back into what we felt most comfortable with: IM. But inside, I was a nervous wreck. What if he's not what I made him out to be? What if it's really awkward in person just like on the phone? What if this person that I thought I liked so so much turns out to be a loser or psycho? Lots of "what ifs" filled my mind. In the early morning hours of March 14th, I tossed and turned in bed trying to sleep, my mind active and racing all night long.
MIT dome: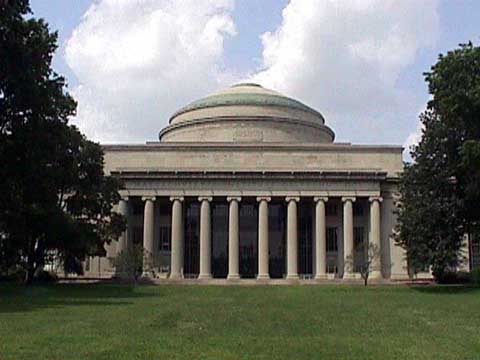 Finally it was time. Around 11am, I went to the MIT dome to meet up with kyzen8. While walking down the infinite corridor, I passed someone who looked familiar but did not strike me as being kyzen8. He looked somewhat handsome but slightly serious with a hint of arrogance/meanness. I remember thinking to myself, I wonder if I would be happy or sad if this person turned out to be kyzen8? That thought quickly went away.

We called each other and finally met up near the front lobby area. I think he was holding a coffee. And yup, that person that I had passed was indeed kyzen8. We turned back towards the infinite corridor where I had "met" him for the first time moments ago. The whole time, I kept making comments like "wow, you're so normal" and "can I see your ID?". All I could think about was how very glad I was that he was everything I expected and more.
MIT infinite corridor:
I had a couple calls from planted friends asking how things were. They were ready to rescue me if things went awry. Luckily, I was able to exclaim "he's normal!" as if that's something to be happy about (it truly was).

Our first stop was my research department. Ironically, my supervisor wasn't even in town that weekend for him to speak with. So much for that meet-up excuse!